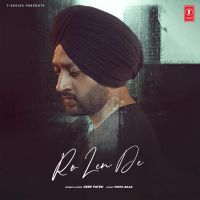 Title: Ro Len De
Album: Ro Len De
Artists: Deep Fateh
Music: Mista Baaz
Lyrics: Deep Fateh
Duration: 3 Mins 33 Secs
Released On: 25 May 2021
Select Mp3 Format

Download as 48 Kbps [1.61 MB]

Download as 128 Kbps [3.64 MB]

Download as 320 Kbps [8.52 MB]
Song Description
Artist :
Deep Fateh
Lyrics :
Deep Fateh
Music :
Mista Baaz
Label :
T-Series Apan Punjab
Tags :
Deep Fateh
Song Genre :
Punjabi Songs
Song Upload date :
June 11, 2021 Ro Len De Deep Fateh Mp3 Song From djpunjab with best quality mp3 files & download album Songs only on dj punjab.com. This song Performed by
Deep Fateh
Artist. Song title is Ro Len De Deep Fateh Mp3 Song Released date of mp3 song June 11, 2021 and this sung Genre or song language is
Punjabi Songs
. Download mp3 Song in HD Quality 128kbps & 320kbps format. DJPunjab is a promotional online music library website. All downloadable / non-downloadable content is provided for entertainment purposes only under Creative Commons Licenses CC BY-NC-SA.